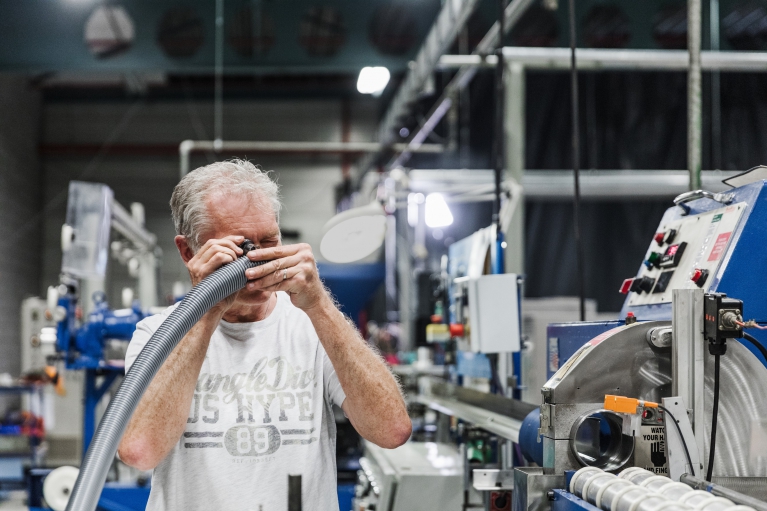 Health innovation at Plastiflex
Plastiflex produces flexible synthetic hoses used in vacuums and swimming pool cleaners, but also increasingly in the medical and industrial sectors. The copper wire-heated hoses have revolutionised the medical landscape, particularly when it comes to ventilation equipment. These products are a strong example of market and product innovation that 3d investors helped bring to fruition.
Plastiflex has been an established player in the household goods market for many years; in the United States, the firm's hoses are widely used in central vacuum systems. However, this market was put under pressure when the housing crisis hit the US in 2008. Plastiflex then entered two new markets, industry and healthcare, with a focus on the latter. Nevertheless, it took a decade for Plastiflex to conquer this segment in the highly protected medical field.
2016, the year of the breakthrough
"3d investors strongly encouraged us to enter the healthcare market", says Piet Gruwez, CEO of Plastiflex. "Our efforts were successful thanks to their financial and moral support. After all, our heavy investments together in those first four years yielded no short-term return. We could only maintain them because 3d investors believed in our company. We saw a turnaround in 2016: the market share of our largest customer grew, which also strengthened our position and set the ball rolling for future growth. Since then, the trend has only been upwards. In the meantime, our annual growth rate has reached 35%."
From bicycle shop to aircraft manufacturer
This growth didn't just come out of nowhere. "We invested heavily in new employees, particularly in sales, but also in technical profiles", Piet continues. "But even more important was to shift the mentality within our company, as a 0% error rate is required to produce hoses for the medical sector. We also sell tubes in the neonatal subsector for the ventilation of premature babies. Safety and quality are, of course, critical in this area versus the vacuum cleaner hose segment. You could compare our transformation to that of a bicycle shop suddenly expanding into aerospace manufacturing."
The strategic switchover
Strategic support was also provided by 3d investors. "Which customers in the healthcare market do we target? Which distribution channels should we use? To find answers to these kinds of questions, we could rely on the expertise and advice of 3d investors", Piet asserts. "Together, for example, we adapted our organisational structure so that we could achieve the right certification and quality standards needed to enter the healthcare market."
A stable anchor point
Piet Gruwez became CEO of Plastiflex in 2016. Prior to that, he served as CEO of a family business and CCO at an international company owned by a foreign private equity fund. "Compared to other private equity players, 3d investors focusses more on sustainability and long-term growth. Even more, they always take people into account without it negatively affecting financial results. Because 3d investors is actively involved and takes the time to discuss strategies with management, they assuage many doubts and concerns. In certain situations where previously unknown territory is being entered, as with our recent acquisitions in the US, this approach is invaluable.
"In addition, 3d investors provides Belgian anchoring", Piet adds. "Plastiflex has factories all over the world, but all strategic decisions are made here. Global product development and R&D are also performed here. With 3d investors, we can rest assured that Belgium remains the home territory of our company."
With 3d investors, we can rest assured that Belgium remains the home territory of our company.

Piet Gruwez, CEO Plastifex