Care Cosmetics and 3d investors continue to expand in Benelux through acquisition of Mikos
14 april 2022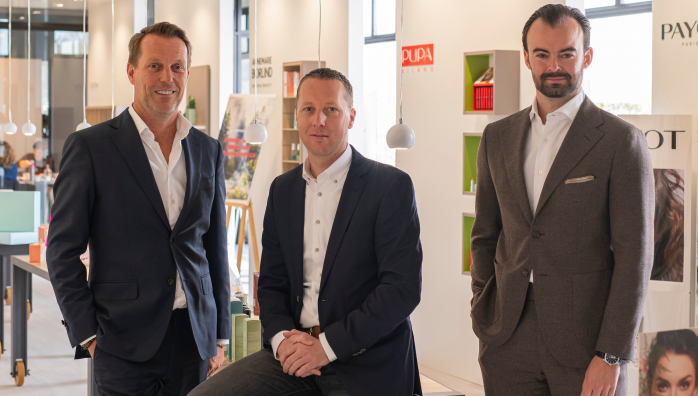 Care Cosmetics, a cosmetics distributor and producer of 39 brands, acquires Mikos, the exclusive distributor of RefectoCil, among others. This increases its brand portfolio to 44 and the customer base to over eight thousand beauty professionals. This is the second acquisition since 3d investors came on board as an active shareholder in 2020 and fits within Care Cosmetics' buy and build strategy that strengthens its position as market leader in the Benelux.
Shareholders Duco van Keimpema, Founder and CEO Care Cosmetics, and Nicolas Sneyers, Investment Director 3d investors, together with Robbin Extra, COO Care Cosmetics, completed the acquisition of Mikos. This acquisition increases the expected group turnover to around 30 million euros by 2022 and the team grows to 95 people.
Duco van Keimpema - CEO Care Cosmetics: "We work with winners. With companies that understand the game of the beauty industry, embrace the future and know that together you are stronger. With Mikos it all adds up; the company and its portfolio is complementary to ours and in a very solid position."

Mikos has been operating for over 50 years and offers everything for professional beautysalons. Erik Ceelen, Founder and Director of Mikos, remains on board as a shareholder and looks forward to the collaboration. Ceelen was given the opportunity to take over Mikos over six years ago, as a total supplier in the beauty industry. According to him, the takeover by Care Cosmetics offers enormous opportunities for their current customer base. "The range for beauty professionals is higher than it has ever been. Everything under a single umbrella, what more could you want?"

Read more about the partnership between 3d investors and Care Cosmetics.